Saturday, May 20, 2017
9:00 a.m. to 5:00 p.m.

Practice yoga, picnic, enjoy live music, hike our trails, help in the gardens, or simply rest, retreat, and be!
Yoga 10:00 to 11:30
Music on the Deck 12 noon
Making Prayer Ties 3:00
Yoga: 10 – 11:30 – The yoga class is filled, but we encourage you to join us for the other activities and to make a donation at the door.
"Steadiness and Ease" with Heather and Marcus
Come join Heather and Marcus for a delightful journey into a space where we will not be governed by the ticking of the clock, the prompts from our Facebook accounts, or the never-ending emails.  This 90-minute class will be a fusion of Restorative Yoga and iRest Yoga Nidra, which are both essential to find and understand "steadiness and ease" within our own bodies.  
Heather will guide you through a series of restorative poses designed to soothe and nourish your body and mind.  Essential oils and relaxing music will facilitate this yoga and breath, offering you an antidote for your stressful week.  Throughout this experience you will be completely supported by bolsters and blankets.  Finally, you will conclude your session in a supported cocoon, as Marcus guides you through iRest Yoga Nidra.
Heather is a Licensed Clinical Social Worker who continually uses her yoga background and education in her profession.  She is E-RYT200, RYT500, and has Advanced Restorative Training by Judith Lasater.  Marcus is a Surgical RN First Assist, completed Level 1 iRest Yoga Nidra with Richard Miller, and has completed Reiki II.  Heather and Marcus own and run "A Sense of Place," Holistic Therapy and Counseling Service in Chattanooga's Southside.  They both would agree and laugh that they too, are in the trenches, and are always working to find their "steadiness and ease" in balancing all aspects of their lives.
This is a 90-minute practice of stillness and quiet and therefore, might be challenging for children under the age of 15.  However, it is completely appropriate for any level of practitioner, from the beginner to the most seasoned yogi.  We encourage all those interested in participating to sign up on the website as space is limited to 25 people. Bring an open spirit, your mat, a lunch for the day, and some extra clothes for hiking and exploring the woods.  Join us for a collective day to define "steadiness and ease" within our own bodies.
Music : 12:00 – 1:00
Music on the Yoga House Deck
Students and Faculty of Southside Studio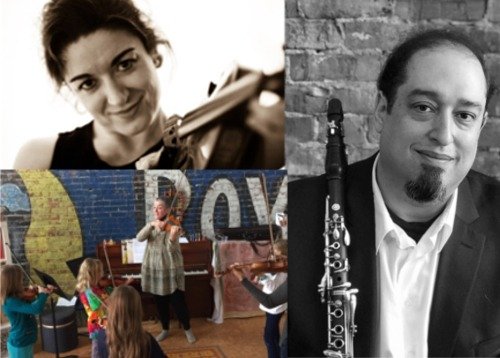 Students and Faculty of Southside Studio will be providing live music at Noon on Saturday, May 20th, at Rising Fawn Gardens.  Southside Studio is located on Market Street across from the historic Chattanooga Choo Choo in an area that is being described as Chattanooga's Music District.  Dedicated to teaching students of all ages and offering a unique space for salon performances, violinist and violist, Bryony Stroud-Watson, and clarinetist, David Dunn are so happy to be bringing their instruments as well as some of their students to Rising Fawn Gardens to provide live music at Noon. 
 The sign on our front door on Market Street reads, Southside Studio – Practice Balance, which refers to our belief in harmonizing the rigors of daily practice and a balanced life.
Prayer Tie Making: 3:00 – 4:30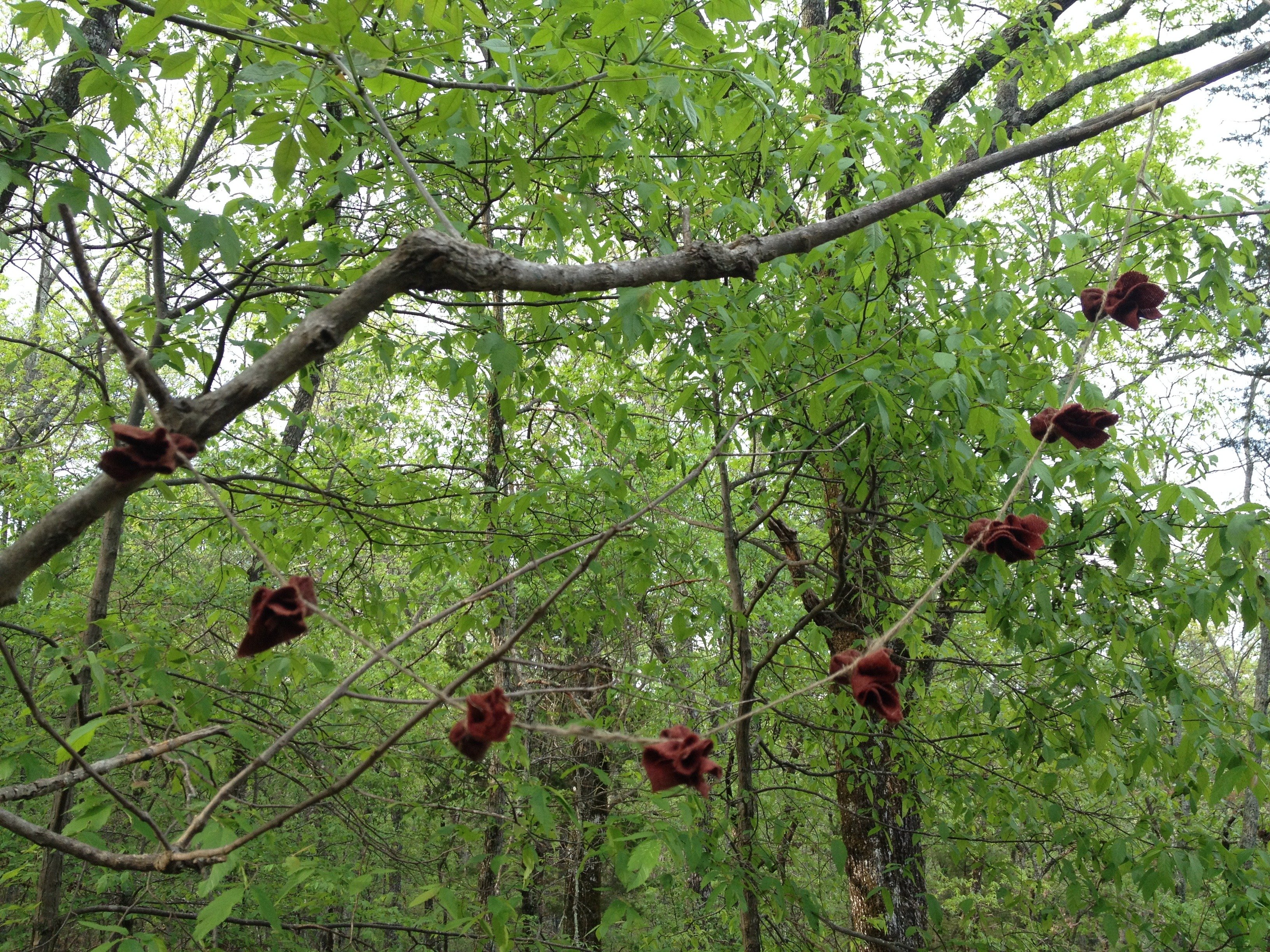 Join Jennifer Blair and Karen Persinger in making prayer ties.
Ceremonial prayer ties persist throughout the world as a cultural tradition belonging to many different people groups. There are several variations and meanings to the ritual of forming them, but prayer ties are universally recognized as a representation of hopes, prayers, and blessings. 
These little bundles are made with biodegradable materials including small squares of cloth, cordage, and dried leaves. Tobacco is oftentimes chosen, having been considered both medicinal and sacred by Native American Indians for generations, but herbs, flowers, tea, sage or whatever is meaningful to you personally can also be used. 
During May's Open Farm Day, we will be offering lavender, lemon balm, sage, and mugwort as well as providing the fabric and string for those who wish to participate. Guests are welcome to leave their prayer ties on the grounds of Rising Fawn Gardens, joining theirs to a collective, communal offering, or keep them if they prefer.
This is a donation event with proceeds from the day going to our Scholarship Fund. Read about our Mission and Scholarship Fund here.
Although we love our furry friends, please no pets at this event.