Join us for our Second "Open Farm Day" at Rising Fawn Gardens!
April 15, 2017
9:00 a.m. to 5:00 p.m.
We encourage you to pack a picnic and hike our trails, help in the gardens, or simply rest, retreat, and enjoy our sanctuary.
Here are a few options for your day:
Yoga 10:00 to 11:15 a.m.
Join experienced and dynamic duo Sara Mingus and Heather Dendy for  Open Farm Day Yoga:
Move, Meditate & Manifest: Why Are You Here?
Ideally, we move through our daily activities with a sense of purpose and clarity. Yet, have you noticed lately you are flying through your days and weeks as if on auto-pilot? What if recognizing the beginning, middle and end of each breath could deepen your yoga practice & bring you closer to identifying your life's purpose? Discover how breathing in sync with your body's movement & using mala beads in meditation can awaken your greatest potential & purpose.
Sara & Heather will lead you through a 75 minute Yin/Yang journey of sun salutations, advanced breath work, and the use of gifted mala beads to reclaim clarity and direction in your busy life.
 Sara Mingus – My yoga journey began about 15 years ago when I discovered Charlotte Yoga, in Charlotte, NC.  The teachers at CY lit a fire under me that could not be contained.  When I inquired where I should go to learn more about yoga, they told me to study with David Swenson in Ashtanga Yoga and Baron Baptiste in Power Yoga. That year in 2003 I went to teacher trainings with both David and Baron. While I loved Ashtanga Yoga and practicing and learning with David, I fell in love with Baptiste Power Vinyasa Yoga. I continued to study with Baron and attended numerous boot camps, teacher trainings, and assisting programs. I eventually had the honor to assist with Baron at several events. My yoga journey continued with other teachers such as Shiva Rea, Jonny Kest, Dolly Stavros, Annemarie Kramer and many more.
In 2007  a business partner and I opened North Shore Yoga. We wanted to create a community where people could feel supported in every aspect of their lives while practicing and growing on their mats. Over the years, I owned the studio solo and then sold the studio to Hot Yoga Plus so I could raise my son Hawkins. Five years later, I am currently diving back into studio ownership alongside Heather Dendy. Heather and I are thrilled to be co-creating Southern Soul Yoga in the original spot that NSY once lived. I look forward to sharing my passion of yoga, health, and holisitic wellness with you in life and on the mat. Namaste ~ Sara
Heather Dendy – Heather began practicing yoga in January, 2005. In Summer of the same year, Heather was struck in her automobile by an18 wheeler leaving Heather with spinal injuries & chronic pain. Her daily yoga practice before and after the accident proved to be key to recovering & maintaining a healthy spine. Heather teaches a style of yoga combining her studies of Kripalu Vigorous Vinyasa, Advanced Pranayam & Baptiste Power. Practitioners will find opportunities for inversions, arm balances, prana release and modifications.
Heather has completed over 700 hrs. of teacher training (including Yoga Alliance, Baptiste Power, and SCW) and is currently finishing her Kripalu Teacher Training 500hr in Massachusetts. Heather is the founder of Southern Bend Foundation, a non-profit yoga/health festival in Chattanooga, TN, raising money for children in need of organ transplant. She also owns City Club Fitness Center in North Georgia & has received multiple honors as Best Yoga and Best Personal Trainer. Most recently, Heather is in the process of opening Southern Soul Yoga studio in Chattanooga with her friend and first yoga teacher, Sara Mingus.
If you plan on attending the yoga class, please send us a direct message so that we may add you to the list as space is limited, and please bring a yoga mat.
Music and Tea on the Yoga House deck
3:30 to 4:30 p.m.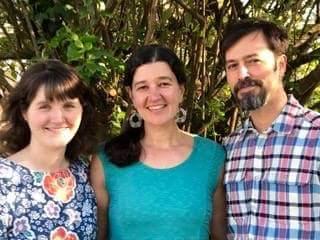 From Chattanooga, the Dearest Dears are Jana Michelson, Kara Miscio and Brian Miscio. Whether performing traditional folk songs, Appalachian ballads, spirituals, hymns, or covering artists such as Gillian Welch, listeners will find the common thread to be an emphasis on vocals. The compelling harmonies and powerful stories told in these songs are enhanced by a combination of string instruments such as guitar, banjo, mandolin and ukulele. United by many common interests other than music, the trio has an easy-going relationship that is reflected in the unique and heartfelt experience they offer.
*This is a donation event with proceeds from the day going to our Scholarship Fund. Read about our mission and scholarship fund here.

To register for this event, please click the button below:
Although we love our furry friends, please no pets at this event.