Everyday Herbalism
with Beth and Karen
Saturday, July 18, 2020
10am - 1:30pm
"Let food be thy medicine." ~ Hippocrates 
If you love to eat, you will love this workshop.
Join us on the farm for a day of exploring how to intentionally infuse herbalism into the everyday. 
Steeping, seasoning, and infusing are just a few of the ways in which we can enjoy herbs in our daily lives, providing a simple and flavorful addition to food and beverage choices we make regularly. In these same ways, we can also benefit from their therapeutic qualities, and can therefore eat and drink our way through herbs as a means of bringing health and healing properties into our everyday routines. By creatively incorporating herbs into our traditional, staple recipes we can nurture our body and absorb medicine in every meal. 
During the course of our time together, we will tour the gardens, collecting herbs and vegetables, meanwhile discussing the characteristics and constituents of the plants growing there. Afterward, we will spend time in the kitchen, blending herbal teas and preparing simple vegetarian dishes using ingredients from our harvest. We will conclude the afternoon by sharing a seasonal meal that we create together in the true spirit of community and eating local. 
In addition to this delicious, communal meal, participants will receive some of our favorite recipes and herbal blends as mementos of our day on the farm spent together.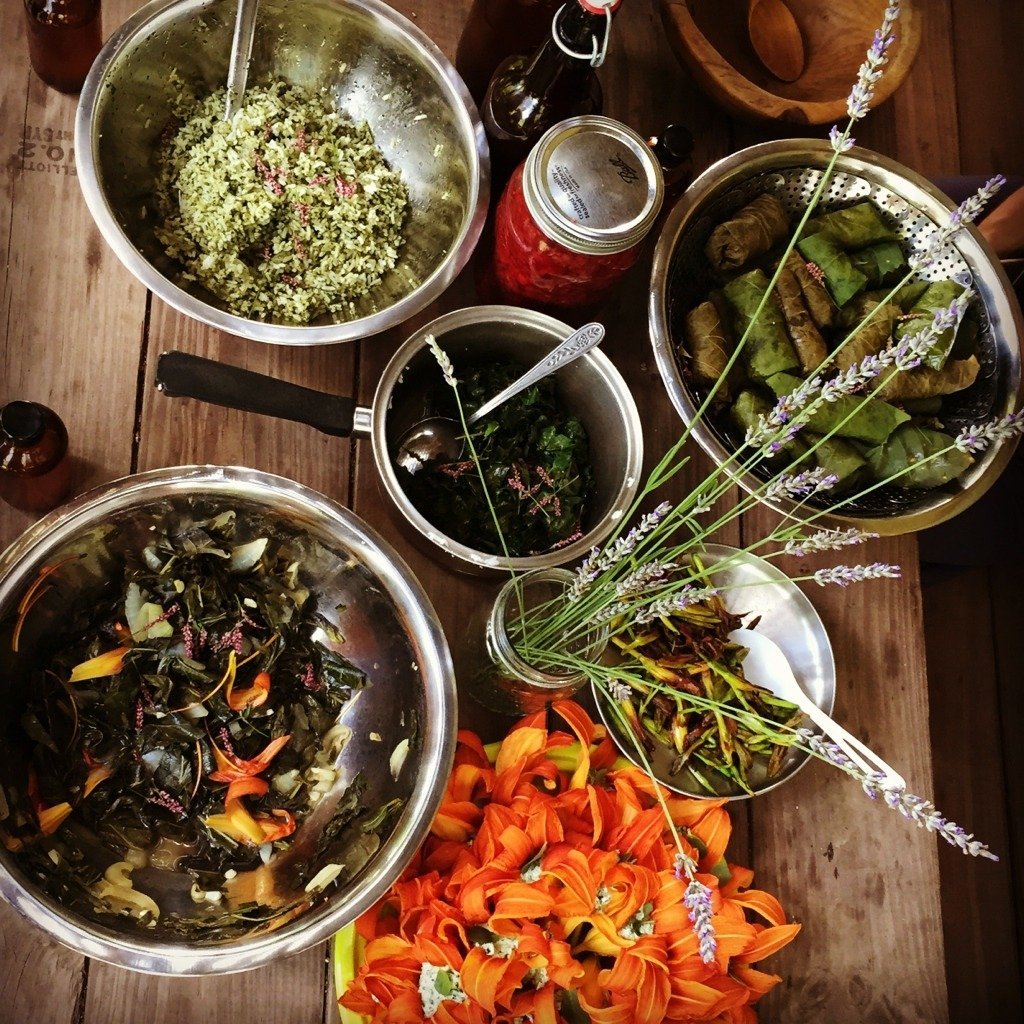 Event Details
Itinerary:
10am-11:30 (check in, walk to gardens, tour, harvest)
11:30-12:30 (kitchen time)
12:30 – 1:30 (meal)
This event is rain or shine. 
Max # of participants – 10 

Cost – $60 /individual, $100 couple
Lunch from the garden is included.
One scholarship is available for this event.
Please email info@risingfawngardens to inquire about this opportunity. 
 Beth and Karen share a love of herbs for their beauty, spirit, and the healing properties they generously offer to share with us. Through our collective years of studying, growing, tasting, and appreciating plants, we are excited to share our passion for bringing herbs into the kitchen and our everyday lives.  
Cancellation Policy
Rising Fawn Gardens has a no refund policy. If extenuating circumstances prevent you from being present, please contact us in advance of the event so that another participant can be provided the opportunity to attend.
For technical help with registering for events:
Contact Us